Currently serving as the Chief Executive Officer of SOS Care, a non-profit serving children and adults with autism and intellectual disabilities, Sarah has spent her life making use of every opportunity to better serve the community.
She has previously served as a group home manager, lead ABA Therapist, Job Coach, Camp Counselor, Rehabilitation and Supports Coordinator for Horry County Disabilities and Special Needs, Director of Parent Educator Resource Services for Horry County Schools, as well as a foster parent.
Sarah uses her 35+ years of experience working with individuals with disabilities to be the creative mind behind SOS's programs and services. Over the years, Sarah has expanded SOS's programs, client base, and areas served throughout South Carolina all in service of empowering individuals and families throughout our community.
SOS has partnered with numerous local organizations to bring Project SEARCH to Horry County, a program providing competitive employment for people with disabilities, and she is overseeing the creation and development of an affordable housing community for adults with autism and related disabilities, the first of its kind in South Carolina.
Sarah is also the mother of two young men with autism, and is relentless in her advocacy for fulfilling the needs of individuals with disabilities in our community.
Kim Stuber has over 15 years of program/project management experience and over 10 years of leadership experience in a corporate environment. Kim holds a Bachelor of Arts in Communications and has held various positions throughout her career which have developed her operations management skills. She has been with SOS Care since 2019 and has helped develop and grow all of SOS Care's programs. Kim and her husband Alan were foster parents for 10 years in Maryland, and adopted 3 beautiful daughters. Kim took a step back from her corporate career to raise her girls and worked part time in a preschool program and as a para professional working with children with disabilities in a public elementary school. This experience, along with her foster care experience, sparked her passion for working with people with disabilities.
Margaret McLaughlin, CPA has over 25 years of experience in providing nonprofit organizations tax and audit services (including SOS Care as a client) while working with local accounting firms as a certified public accountant. She has 2 years of experience as Chief Financial Officer with a local nonprofit organization. She has been with SOS Care since July 2021 as the Finance Director. Margaret and her husband have two children.
Paul Icatar has more than 20 years of experience working with individuals with Autism, intellectual disabilities, and developmental disabilities. He has extensive experience managing high-acuity mental health and human service programs on both coasts and prior to joining SOS Care in April 2022, Paul worked as a care coordinator for senior citizens residing in low-income housing across North and South Carolina. As a social worker, Paul has committed himself to lifting people up through advocacy, education, and assistance. He was drawn to helping others at an early age and the desire to build a life in service introduced him to the profession. Paul is currently pursuing his Master of Social Work degree and looks forward to applying counseling and clinical skills to his work with participants and families.
Program Manager - Charleston
Jonisha Hart is the Charleston Program Manager of SOS Care. Jonisha received a bachelor's degree in social work from Winthrop University in Rock Hill, SC and went on to receive a MAED with a specialization in Family and Community Services from Ashford University. Jonisha has over 9 years of experience working with children and adults with autism and other developmental disabilities.
Jonisha joined SOS Care in 2013 as a behavior technician. She later obtained her Registered Behavior Technician credential and was promoted to Senior RBT for the Charleston location. In February 2022 Jonisha was promoted to Charleston Program Manager, in which she oversees programs and performs quality assurance of the Charleston programs. Since stepping into this role, Charleston has added the following programs: Adult Respite, Social Skills, and Employment Services. Jonisha is also an Employment Specialist, ACRE certified, and in 2023, obtained a Special needs Life Quality Coach credential.
Jonisha resides in the West Ashley area of Charleston, SC and is the aunt of 7 nieces and nephews. In her free time, enjoys cooking, reading, bowling, and spending quality time with her family..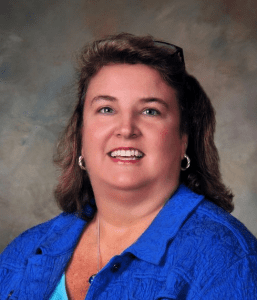 Marketing and Events Director
A native New Englander, Kathi traded ski boots for flip flops relocating from Vermont to Pawleys Island over 30 years ago, as Director of Marketing & Sales for Litchfield Beach & Golf Resort: a premier resort along the southern Grand Strand. She became Assistant General Manager of this 4-star resort property, before agreeing to market Myrtle Beach National Company's collection of 13 award-winning golf courses, stretching from the NC border to Pawleys Plantation. In 2011, Kathi expanded to the Sales side, which had grown to 22 golf courses and supervised an 18-person Sales staff with a centralized call center, integrated websites and live chat web service under Founders Group. Under her leadership the Tee-Time Central call center would expand to provide Call center and marketing services to courses in Hawaii, California, Arizona, Canada and more.
The Corona-virus pandemic would shake the Grand Strand golf business in March of 2020 and Kathi took a break from the industry before being led to the non-profit sector. She would join SOS Care in January of 2021 and become the Director of Marketing and Events for this disability service provider who answers the call for help when a family receives an autism or intellectual disability diagnosis. Kathi has held a number of non-profit Board of Director positions. A 30-year Rotarian and Paul Harris Fellow, she believes #ServiceAbove Self and has served as Rotary president for 3 terms and was voted Rotarian of the year.
When not involved in the community, Kathi, her husband Terry and daughter Emma reside in Litchfield Beach, SC.
Donor Engagement Specialist
Program Manager - Oak Tree Farm and Adult Programs
Program Manager - Employment Services BCBA Consultant, Bean Dreaming, PCM Trainer
Adam Law has over 12 years of experience in working with kids with Autism and Developmental Disabilities. Adam has been working with SOS Care since 2013, and earned his Master's degree and became a Board Certified Behavior Analyst in 2018. Adam has always loved helping others and has made it his mission to help individuals and their families increase independence skills in all aspects of life. Throughout his time here, Adam has expanded his repertoire to working with adults by being an Employment Specialist as well as an instructor teaching skills necessary for independence. Adam and his wife Eileen have 2 spunky children who are full of energy and love life! He loves exercising and being outside with his family!
Director - Clinical Services/Pre-ETS BCBA Consultant
Mallory Laravie, PHD
Program Manager Social Skills, Camp, Friday Knights, Mental Health
Jonisha Hart
Program Manager - Charleston
Melissa Giebel
Program Manager ABA, Compliance & Billing
Justin Borrero
Technical Support Supervisor
Suzanne Toole
Accounting Assistant and Oak Tree Farm Property Manager
Monique Clement
Program Administrator - Project Lifesaver, Subs for Santa
Roxanne Barrell
Office Administrator and Intake Advisor
Abigail Rembe
Respite Program Coordinator, RBT
Leslie O'Neill
Program Coordinator - Independent Living Skills
Millie Dougherty
Program Coordinator - Recreation Club
Nick Nadler
Program Coordinator - Friday Knights
Michelle Menefee
Program Coordinator - Social Skills and Pre-ETS
Alyssa Buford
Clinical/Pre-ETS Supervisor BCBA Consultant
Morgan Davis
BCBA Consultant
Tammie Cottrell started working in the field when she was 18 years old. She quickly realized she loved what she was doing and began to peruse her career. She started working at SOS Care as a line therapist in October 2013 and immediately became a Lead Therapist. While in school to become a BCBA she acted as a Tier III Consultant from June 2016 – February 2017 and became a BCBA in February 2017. Tammie also holds a Bachelor of Arts, Special Education: Learning Disabilities from Coastal Carolina University, a Master of Science in Education Autism Track from Monmouth University, and an Applied Behavior Analysis and Autism certification from The Sage Colleges. She currently works in the ABA field maintaining a caseload, is the Myrtle Beach supervisor, and conducts Audits for the ABA department. Tammie is a member of SCABA and attends conferences yearly.
Housing Educator - Columbia, SC
Faith Avery
Employment Specialist
Shanna Coleman
Employment Specialist
Scott Heaton
Bean Dreaming Specialist
Rheanna Lumia
Compliance & Billing Specialist
Lisa Ann Peters
Job Developer - MB
Alex Smith
Friday Knights
Taylor Veal
BT/RBT/Pre-ETS & Respite assistant/Employment Specialist
Courtney York
RBT, Employment Specialist
SOS Health Care, Inc was formed in 1989 and is a 501(c)3 nonprofit organization. Our funding comes from grants, fundraisers, and private donations. The ABA Therapy Program receives part of its funding from Medicaid, private insurance, and tuition. Our funds are used to pursue community goals and address unmet need
Pierre Rattini, BOD President
Pierre Rattini of MB Buzz, LLC & REollow is an agency director, online marketing advisor and strategist. He has been in this space for over 13 years and he helps Realtors®, Brokers and Business Owners create local brands that become competition and recession-proof.
He believes in giving back to his community and is the current Board President for SOS Care and has been an active Board Member of SOS Care for over 8 years.
Vice President & Secretary
Grew up in Czechoslovakia during communism. After the Berlin Wall fell in the fall of 1989, the world opened up. Jan came to Myrtle Beach, SC. to work with his uncle in 1994 after graduating from Hotel & Restaurant Management School. In 2009, Jan became a citizen of the greatest country in the world, the United States of America, and wanted to be part of the local community so he started to volunteer for SOS Care. Jan became a board member in 2011 and is currently serving as the Board Secretary.
Celia Solomita, Treasurer
Celia Solomita began her career with the NYS Office for People with Developmental Disabilities (OPWDD) where she served in various mid-level and senior level positions. Before her retirement in 2009 she held the position of Director of Fiscal Services for the Downstate Area of New York State. Subsequently, Ms. Solomita held the position of Chief Administrative Officer for United Cerebral Palsy of NYC (now known as Adapt Community Network). She joined Partners Health Plan (PHP), as VP of Administration and Finance in October 2014 and, along with the other 3 Founding PHP Team Members, prepared for and successfully completed the rigorous Federal Readiness Review Process. As a result, in 2015 PHP was approved by the Federal Centers for Medicare and Medicaid Services (CMS) as the first, and only, specialized Fully Integrated Duals Advantage Plan for Individuals with Intellectual and other Developmental Disabilities (FIDA/IDD). Ms. Solomita is currently the CFO and CAO of Venture Together, Inc. a Provider of supports and services for people with special needs in Rockland County, NY.
Ms. Solomita currently serves as a Board Officer for the Interagency Council of Developmental Disabilities Agencies in NY (IAC) which is comprised of 145 non-profit organizations throughout New York that provide services for people with special needs. She is honored to also be a member of the SOS Board and shares in the passion and commitment of the other Board members for people of all abilities.
Nicole Brundage began her career at CIGNA HealthCare working as a physician liaison in the managed care division. After earning her Masters in Health Care Administration from the Medical University of South Carolina (MUSC), she was hired by her alma mater as the public relations coordinator for SC AHEC, a division of MUSC. Relocating a few years later to the Murrells Inlet area, Nicole is now a stay-at-home mom to two boys, Charlie and Carter. Charlie, who was diagnosed with autism at 2, has thrived while receiving ABA services through SOS. In addition to her volunteer work with SOS, Nicole serves on the Advisory Board at St. Michael Catholic School. She can be reached at nfb1990@gmail.com.
Mollie Laut retired after serving 44 + years as an educator and administrator in public schools, universities, research organizations and the State Department of Education. She worked in the public sector as a Speech and Hearing Pathologist; an adjunct College professor; a consultant for the State Department of Education, Division of Special Education and a consultant for a research organization devoted to furthering options for individuals with disabilities. Prior to her retirement in 2015 she was the Director of Special Education for Horry County Schools and a Director of Human Resources.
She became a Board Member for SOS Care in 2018 to give back to the families who enriched her life and to support programs focusing on the life-long needs of youth and adults with disabilities.
Tia Ecker has lived in the Myrtle Beach area since 1999 and is employed by Duncan, Farmer, McIlrath, Marlowe & Cole, CPA. She joined the board of SOS in 2019 after having served as a volunteer for many years. Tia also volunteers with Horry County Special Olympics and The Grand Strand Miracle League. She is married with three dogs and a foster kitty and loves to read, run and relax on the beach.
LaTanya Brown Goodson, currently serves as principal of Rosemary Middle School with Georgetown County School District in Andrews, SC. She has been in education for the past 21 years serving as a teacher, curriculum coach and assistant principal.
After graduating from Georgetown High School, she matriculated to South Carolina State University receiving a degree in Elementary Education. She furthered her education at The Citadel by receiving two masters, one in Reading and the other in Administration.
She is married to Wayne Goodson and they are the proud parents of one son, William Spencer who is on the Autism Spectrum. She is an active member of Delta Sigma Theta Sorority Inc. and Jack and Jill of America Inc along with several professional organizations. In addition, she is the Minister of Music at Bethel AME Church in Georgetown.
Renken Carlin lives in Mt. Pleasant, South Carolina. She, her husband Kevin, and their three boys Noah, Ryan and Finn moved back to Mt. Pleasant four years ago after spending 21 years moving around the United States and enjoying their military career in the United States Air Force. Her middle child, Ryan, has Down Syndrome. Renken has been an advocate for Ryan and all children with different capabilities since he was born. She has helped shape, change, and start numerous programs in every community they have lived in and every school system Ryan has been involved in. Renken currently sits on the Board and is secretary of Village Vision, a nonprofit organization working to build an affordable housing community in the Charleston area. She is excited to work with the Board members of SOS Care to keep raising awareness for community involvement and support for those living with intellectual and developmental disabilities. Renken joined the Board of SOS Care in March 2020.
Dr. Belal Khokhar was born in Chicago and raised in upstate Batavia, New York.  He did his undergraduate work at the University of Rochester, his medical school at SABA in the Caribbean and his residency at Carilion in Roanoke, Virginia.  In January of 2008, he relocated to the Myrtle Beach area and practiced in a few our area hospitals and served as Medical Director at Amedisys Hospice of Conway, before opening Alpha Male Clinic in April of 2021.  The mission of Alpha Male Clinic is to help men become men again, hormonally, mentally & physically. Alpha Male Clinic is the elite life and body transformation club for men, and now also serves women as well.
Dr K also prides himself on his mission work throughout the world, including multiple trips to Haiti, as well as Bangladesh, Jordan, Guatemala, Yemen and Rohingya.  Welcome Belal!
Mike Dixon joined our Board of Directors in December of 2021. Mike and his family are New Jersey natives who moved to Myrtle Beach 11 years ago and live in the Market Common area. Their real estate brokerage firm is Associated Pearl Real Estate, where they have enjoyed their spot in Surfside Beach for the last 3 years. Mike and his wife Linda live with their 39-year old daughter Erika who was diagnosed with Autism at age 3 and "is our hero and example on how to survive! We've been involved with several different charities but never one as caring and professional as SOS Care" says Mike.
Adam Schmidt is an American former figure skater, television/entertainment personality, and athlete victims' advocate from Los Angeles. He is a former Team USA National and International competitor and the 2002 North American Silver medalist. Adam turned professional in 2005 and began touring the world to millions of fans for Stage Entertainment's Holiday on Ice. He is credited with coaching US regional, sectional and national champions. As a coach, Schmidt starred in the figure skating reality series Ice Moms in 2012. Schmidt is an advocate of the empowerment of athletes and works towards increasing accountability in organizations that deal with Olympic athletes. He played an instrumental role in getting the Empowering Olympic and Amateur Athletes Act of 2019 written and signed into law. Adam retired to Myrtle Beach in 2021 and joined the board of SOS Care in 2022.
Amy Wilkes has served as a Speech-Language Pathologist for 25 years. She received her undergraduate degree from Ithaca College and her Masters Degree from West Virginia University. She worked in a clinic and hospital setting for 10 years and for Horry County Schools for 15 years conducting preschool evaluations, serving on the traumatic brain injury and autism evaluation teams, and conducted speech and language therapy. She is now working privately as an SLP in the community and is an active volunteer for HCS on the school improvement council and Title I committee while enjoying spending time with her two active teenagers, Owen 16 and Kennedy 13. She became a board member in 2023 and is so excited to continue her passion of helping others through the efforts of SOS Care.
Jeff Wahl has served as a board member since 2021. He was introduced to SOS Care by our very own Pierre Rattini. Jeff and his wife Kristi moved to Myrtle Beach 4 years ago from Colorado. Jeff graduated from Arizona State University with a degree in Economics and also sits on our finance committee. "I have always been motivated by helping people grow and succeed, and SOS is no exception". He has volunteered as a sports coach for over 25 years and currently helps people by instructing pickleball. He believes strongly in our cause of providing individuals with the resources and tools they need to have pride in their independence.
Clay Seim is a 29-year-old self-advocate with autism spectrum disorder. He works part-time at a downtown Charleston restaurant. He volunteers with several programs that help individuals with disabilities in the greater Charleston area, including SOS Care. Clay was part of the Village Vision board and joined SOS after they merged. He currently volunteers with SOS's Charleston development committee and the Charleston respite group.
In 1989, Dr. Bill Davis stopped his urology practice of 18 years to found SOS Health Care, a non-profit organization dedicated to addressing the needs of children, adults, and families who fall through the gaps of the healthcare system.
SOS started a healthcare advocacy campaign in Horry County for low-income uninsured residents, which garnered free physician care and remarkably discounted outpatient medication, X-ray, labs, PT, and Same Day Surgery services for over 13,000 families. This program was then taken over by SharedCare.
SOS was the initial lead agency for federal funding for HIV/AIDS for nine counties. After 3 successful years, this program was turned over to Care Team and Pee Dee Cares. Care Team is a non-profit created by SOS.
In 1994, SOS started the Caring 4 Kids program. This program delivered donated and purchased food, clothing, school supplies, presents at birthdays and holidays and other necessities to homes of children in need throughout Horry County. In 2005, this program began to function under the CAP agency.
In 1997, SOS began the Seniors Helping Seniors Program (AKA Senior Peer Counseling). Services included one-on-one peer counseling based on a model developed by the Senior Health and Peer Counseling Center. Seniors Helping Seniors spun off in 2006 as a separate 501(c)3 non-profit organization under SOS's direction.
In 1998, SOS began the Homework 4 Kids Program after a youth participant said "Every teenager ought to have to come here and work with SOS for a week. It will change lives." This program allowed youth (both from the area and outside) to perform such acts of volunteerism as repairing homes, building playgrounds, building the Children Center and the Health & Wellness Center at Cedar Branch, and more all to service the Horry County community.
In 2001, the Children's Center of Cedar Branch Community was built by SOS in the most severely distressed neighborhood in the region. SOS provided an After-School program and Summer Program to over 60 at-risk 1st-8th graders. Beginning in 2006, the community operated the programs themselves.
SOS made medical supplies not needed locally available to medical missionaries via its Medical Supplies for the World program. Supplies included wheelchairs, walkers, canes, and more. They were brought oversees over 10 times to places such as Kenya.
In the mid-2000s, SOS's Health and Wellness Program was based out of the Little Angel's Health and Wellness Center, which was built for SOS by volunteer labor and money from a Duke Endowment Grant. The Health and Wellness Program featured a nurse (backed by a physician) for urgent minor medical care, triage and referral of more major injuries and illnesses, monitoring and education for chronic illnesses, and preventative health education.
An outreach worker provided transportation for medical and dental care for low-income families. In addition, the outreach worker assisted with completing Medicaid and SharedCare applications and advocacy in the schools for children.
Durable medical supplies and disposables such as liquid nutrition and adult disposable diapers were donated to SOS and given out to patients who could not afford to purchase them.
At the Little Angel's Health and Wellness Clinic and other locations, SOS provided health outreach screening clinics and health fairs for detection and education of such health problems as dental hygiene, diabetes, hypertension, and cancer.
SOS's Closing the Gap on Infant Mortality program provided education and advocacy during pregnancy and the first year of a newborn's life.
In 2006, SOS began to recognize the growing rate of diagnosis of children with autism. During this year, SOS began to collaborate with the autism Advocacy Foundation. This same year, SOS began a collaboration with North Star Foundation to train and provide service dogs to children with autism. The Richard's Program, a summer day camp for teens with autism, began in June 2006.
The Project Lifesaver Program of Horry County, part of an international program, began under SOS's direction with Horry County Public Safety. Individuals enrolled in the program wear a small transmitter bracelet that emits a personalized tracking signal. This program is intended to provide rapid response to save lives and reduce potential for serious injury for those who wander due to autism, Alzheimer's, Dementia, and other related cognitive conditions.
In 2007, SOS established the Building Futures autism Clinic to provide Applied Behavior Analysis (ABA) Therapy to children with autism spectrum disorders. At that time, the clinic was the only non-profit in Horry County providing ABA Therapy.
SOS partnered with Applied Behavioral Services, Inc. to provide a Summer autism Clinic. The program began with 25 applicants competing for 14 slots. The support offered by SOS allowed this service to be offered for the first time in South Carolina. At this time, Applied Behavior Analysis (ABA) Therapy, was available in other states and research demonstrated its efficacy for children with autism. ABA largely entails breaking skills down into small parts and using positive reinforcement to teach in a systematic fashion. Skills taught include communication, social skills, self-care, and play/leisure skills. In addition, problem behaviors are analyzed and treated according to their purpose or function. Then, children are taught responses to replace problem behavior with more acceptable alternatives.
SOS's Ambassador for Youth traveled overseas to learn about various cultures. When he would return, he worked with at-risk youth in the community and in the schools to engage them and teach them about other cultures and individuals. The Ambassador for Youth's programs created dialogue, worked to prevent students from dropping out of high school, encouraged leadership, and did so much more to mentor the at-risk youth of Horry County.
In 2008, as planned, the CBCEC took over running the Children's Center and the Health & Wellness Center at Cedar Branch. SOS directed this initiative for four years to prepare the CBCEC to use it for programs to benefit the community.
In 2010, SOS opened its first autism Clinic in Garden City. The space was funded by a generous donor for 24 months and allowed for 20 therapy sessions per day. In addition to therapy, SOS was able to host workshops and training sessions at the new facility.
With the support of an endowment from the Wallen Family Foundation, SOS began its Urgent Dental Care program in 2011. This program assisted low-income individuals with accessing and paying for urgent dental care.
In 2011, SOS launched a new program for women with cancer called Elements Healing Space. This program offered free yoga classes; massages, the Look Good, Feel Better program; and other services to women who were being treated for cancer or were in remission.
In February of 2012, SOS began its Friday Knights II program, which was a partnership at the time with the Department of Disabilities and Special Needs. Friday Knights II was/is a recreation program for children and teens with autism and intellectual disabilities that also served as a respite program for parents and caregivers. That same year, the Opening Doors program aimed to address the needs of homeless youth attending Horry County Schools by providing them with work training. SOS also began a collaboration with GS Scene called Subs for Santa. This program was/is aimed toward low-income children and provides them with a Christmas pizza party and shopping trip.
SOS moved its Building Futures autism Clinic from Garden City to a new location in Surfside Beach. This location would be home to the clinic for the next 6 years. This same year, SOS began its SOUL program. SOUL, or Skills of Understanding Life, was developed to teach social skills, communication, to build friendships amongst teens with autism.
In early 2013, SOS was offered the use of the Sertoma Building on 21st Avenue thanks to the Grand Strand Sertoma Club. SOS moved in and began using the space immediately. This same year, SOS opened Making Change Consignment via a grant from the South Carolina Developmental Disabilities Council. This consignment store provided on-the-job training to young adults with autism and related disabilities. The store ran for three years before SOS decided to expand its job training services to more than just retail.
2014 marked the start of SOS's Job Coach program, a program that worked with young adults with autism and related disabilities to help them find employment in the community. The Job Coach assesses and trains the individual on new job skills, assists with resume writing and job applications, and trains the employer on how best to work with an individual with a disability.
In 2015, SOS began to address the issue of high rates of co-morbid health issues amongst those with disabilities via its Fit for Life program. The program provided adaptive fitness classes as well as nutrition lessons that were broken down in a way that participants could understand and begin to take control of their health.
With the continued growth of SOS's Summer Camp program, SOS decided the program needed to be split in two to properly address the needs of various campers. Thus, SOS developed its Career Camp program, which ran concurrently with the Summer Camp program. Over the summer months, Career Campers would have separate field trips and curriculum to focus on the needs of transition aged youth with disabilities including health, hygiene, employment, college, and skills for independence.
Later that year, SOS began its College Mentor program. The College Mentor works with young adults with disabilities who are pursuing post-secondary education at local colleges. The mentor assists with applications, navigating the campus, managing class assignments, and deciphering challenging social situations.
In 2016, SOS began the autism Community Education program. This program was designed to train local businesses on how best to accommodate those with autism and to break down barriers that families experience with accessing their community. As the program continued over the years, SOS focused on training businesses on how best to accommodate those with disabilities, not solely autism.
SOS began speaking about the topic of housing to its adult participants with autism and intellectual disabilities. With no national plan for affordable housing for this population, SOS began developing its own plan, which would later be named Oak Tree Farm. In addition, SOS began its Life Skills program to teach skills necessary for independence to adults with disabilities.
In 2017, with the support of the Grand Strand Sertoma Club and The Chapin Foundation, SOS built an annex on the Myrtle Beach clinic. This new addition would allow for a laundry room and a full kitchen, allowing the Life Skills program to teach laundry and cooking skills to adults with disabilities and prepare them for independence. Other SOS programs can utilize the space for their needs as well.
In the Fall, SOS signed a contract purchasing over 10 acres of land on Medlen Parkway in Conway, South Carolina for its biggest project to date; an affordable housing community for adults with autism and intellectual disabilities, later to be named Oak Tree Farm.
In 2018, SOS began its Social Skills Group for elementary age children with autism. This group targets children who have graduated from ABA Therapy and have developed adequate language skills. The program utilizes games and fun activities to engage children and practice social skills, which is routinely a major deficit amongst those with autism.
That summer, SOS expanded its Fit for Life initiative by developing the Holistic Health program. This program would take on an organization-wide policy to improve the health and wellness of all of SOS's program participants, staff, and families. The program embeds healthy living into every program and trains staff and participants on options for exercise and being active as well as nutrition.
SOS opened another clinic, this time in Georgetown County. The clinic would feature services for individuals with autism and intellectual disabilities including ABA Therapy, social skills and more. In addition, SOS collaborated with the Georgetown County autism Support Group to provide support group meetings for families at the new clinic.
In 2019, SOS began a collaborative effort with 5 other organizations to bring a local Project SEARCH site to Horry County, South Carolina. Project SEARCH is an internationally recognized employment services program for adults with disabilities in which participants go through 3 different internships at the host-site over the course of a year.
SOS also created our Making Change II Program this year which focuses on creating customized employment plans for our adults with autism and intellectual disabilities. This takes a passion and turns it into a career.
SOS expanded our reach to include a clinic in Charleston and job coach programs in Spartanburg/Darlington.
In the fall of 2019, SOS moved their main office and Georgetown clinic into a shared location in Murrells Inlet. We were able to purchase our first building and are excited to have a place to call home for many years to come.
In 2020, SOS Health Care launched a rebranding campaign to better represent who we are and what we do. Moving forward, the word "health" will be dropped from our name and we will be known as SOS Care. Our mission is to answer the call for help when individuals or families are facing the challenges of autism & intellectual disabilities. Our vision is to provide the resources needed for independent living for all individuals in South Carolina with autism and intellectual disabilities, so they are not in danger of becoming homeless.
Arthur M. Blank Family Foundation
Crabby Mike's Calabash Seafood Buffet
Darron and Deborah Molter
DaVita Dialysis
Debbie Leonard, CPA
Dillon Lions Club
Elliott | Phelan LLC
Gary and Kelli Wadsten
Gay Dolphin
Grand Strand Sertoma Club
Horry-Georgetown Home Builders Association
Hyatt Buick GMC
Joyce Davison
Lewis A. Sikes Foundation
Lisa Graham
Moglia Family Foundation
Mount Triumph MBC
Nelson Mullins Riley & Scarborough LLP
Newcomers Club of the Grand Strand
Nita Powell
North Myrtle Beach Lions Club
OrthoSC, LLC./Dr. Wayne Bauerle
Palmetto Medical Equipment of Florence
Planet Fitness
Ripley's Aquarium of Myrtle Beach
South State Bank
St. James Intermediate School Beta Club and PTA
Tuscany Master Association, Inc
Wayne and Barbara Hinman Charitable Fund
Bank of America
City of Myrtle Beach South Carolina
Columbus Hope Foundation Inc.
Coastal Community Foundation
Frances P. Bunnelle Foundation
Horry County CDBG
Ocean View Memorial Foundation
SC Housing Trust
South Carolina Developmental Disabilities Council
Tamsberg Family Foundation
The Chapin Foundation
United Way of Horry County
Waccamaw Community Foundation
Wells Fargo